Feeling like you need a little inspiration for the week?
How about a little motivation from 4 of the
youngest entrepreneurs in the world
!
So over the weekend I was thinking about how creative kids really are, anyone who has spent even 5 minutes with one should know exactly what I mean...
Give them a box of Legos and they can construct the most intricate tiny helicopter, toss a kid some crayons and they can create the coolest abstract drawing ever seen!
Combine this creativity with a little innovation and a business mind and...
poof, you have a mini entrepreneur!
Here are the stories of 4 young kids that put their ideas into action and are now named some of the youngest entrepreneurs in the world.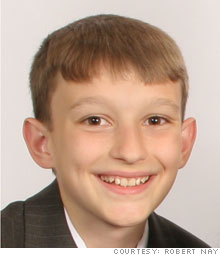 At age 14, Robert Nay's first game, Bubble Ball, was downloaded more than two million times within two weeks of its launch. Just to put it into perspective a bit his game beat the sensation ''Angry Birds'' to the number 1 spot and was the most downloaded free game spot in the Apple app store!
After a suggestion by his friends to make an iPhone app he thought it would be cool and gave it a shot. It was no simple task, but with no previous coding experience, Robert went to his public library and researched how to build his game.
After a month in the library reading books and producing over 4,000 individual lines of code, Bubble Ball was complete.
The total cost to produce his app was a mere $1,200 which was given to by his parents to purchase a new Macbook and the proper software licenses.
His advice to young people: ''You can do amazing things if you just try.''
Aside from being absolutely adorable, this young boy is a shiny example of making your dreams come true. At a wise 11 years, Jake Lunn founded Nautical Napkins which was inspired by his passion for boats.
His passion for boats inspired and created a company that made custom napkins for use on ships and yachts. An 11-year-old designing napkins for yachts...!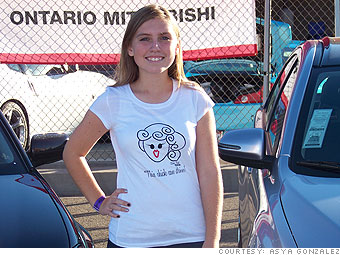 Her parents being entrepreneurs themselves, it was no surprise that Asya Gonzalez followed in their footsteps.
At 13, Asya launched her very own Stinky Feet Gurlz, a company that designs, markets and sells 1940s-inspired t-shirts and apparel.
A child with a big heart, her company donates a portion of every sale to She's Worth It!, a nonprofit organization she founded, dedicated to ending human trafficking and child sex slavery.
'Buy a shirt, save a child.' That's our motto,'' she said. This very same motto is front and center on her company website.
Her Advice, ''Most adults like to help and give advice so be open to it,'' she said. "And above all, have fun!''
So just in case you feel like you can't reach your dreams, take a look at these 4 creative kids for inspiration!